The Commercial Mortgage Closing and What to Expect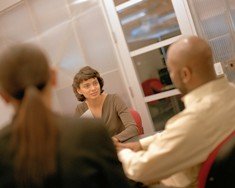 We finally made it to the commercial mortgage closing! Whoo...Hooooo…
This has been our goal destination all along and here we are.
So, here's…
Your Question
Now that I'm at the closing table, what can I expect and how should I respond?
Real Answer
Now that I'm at the closing table, what can I expect and how should I respond?
1st - Be prepared to pay your down payment and closing costs by means of a cashier's check or money order. That should be among your primary concerns.
2nd - Have your eyes and ears open as the closer explains each document that you sign. Make sure all of the terms are the same as what you've previously agreed to.
If for any reason they are not, don't hesitate to contact your lender or broker and get to the bottom of what happened.
3rd - just as you expect the lender to honor the terms previously agreed to, be certain to do the same yourself.
Trying to negotiate better terms at the closing table is looked down upon and may cost you the deal altogether.
4th - It's wise to read everything you are signing, including the fine print. You might even choose to request a "dry closing" first.
A dry closing is where no actual funds are exchanged. If you request a dry closing, you'll have at least 24 hours to review all of the documents before any funds are exchanged.
Finally, don't be shy about asking questions. If there is anything that you are concerned about or uneasy about, may be the last chance you have to get clarity. After the closing is certainly a bad time for buyer's remorse.
Instead, ask questions and be clear about everything. This way, you can enjoy and appreciate the closing as much as everyone else involved.
If you have any questions that you'd like us to answer before you go to the closing table…
Free to pick up the phone and give us a call anytime 24 hours 7 days a week at (800) 778-5361.
Also, listen in to our BONUS recorded message. There you'll find…
BONUS RECORDING - More ways to prevent surprises at closing. And What's the secret to getting my lender to give me a dry closing?
Well, it looks like your commercial mortgage is closed. You either have a check (seller) or a property (buyer). You may even have both (refinance)!
Congratulations are in order once again. It's finally over! Or is it?
Did you know that some commercial lenders require post close reporting and balance transfers?
Let's head over to Post Closing and find out what that's all about.
return from Commercial Mortgage Closing to Business Loans