A Fast Business Loan is Attainable
Need a fast business loan?
How fast do you need money? Tomorrow? Today? Sooner?
On some level all of us need money fast.
Even our children don't want to wait for the things they really want. Yes, the tendency for instant gratification is deeply ingrained in our blood from childhood onward.
When it comes to money, when we need it, we can't wait. We need it NOW!!!
But how realistic is it to qualify for a fast business loan?
Check out these questions asked by business owners like yourself:
Your Questions
How fast can I expect to be able to get a business loan?
Can I get fast business loans if I have a start-up business?
Can I get fast business loans if I have poor credit?
Real Answers
How fast can I expect to be able to get a business loan?
Honestly, I would discourage people from trying to get business loans quickly without being prepared.
If you want a business loan fast, become skilled at having all of your supporting documentation in order. Most of the time we stand in our own way of getting the money we need.
Do you have your interim financial statements prepared?
Did you file your taxes for last year?
Have you worked to build your personal credit?
Is your business credit strong?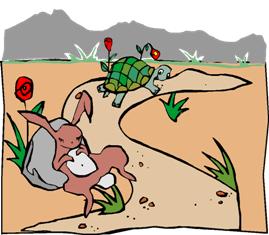 Did you answer "no" to any of the above questions? My advice to you and anyone else looking for a business loan quickly is this: SLOW DOWN!
Do you remember the story of the tortoise and the hare that we learned as children? What was the moral of the story? That's right, slow but steady wins the race.
Yes, it does take time to prepare, but the results are well worth the effort. Avoid the temptation to rush. Unless of course you're going to be in as much of a rush to pay the money back.
Not to mention, there are all kinds of dangers that could await you if you try to get a business loan too quickly such as:
Potential for getting scammed

Paying unnecessarily high interest rates

Getting less than favorable terms
But if you insist on getting a business loan fast, you do have options. Some can be secured in as little as 48 hours.
Remember though that banks don't like to lend to you when you actually need money. It's a big catch 22.
When you need money badly, you instantly become more of a risky borrower. The risk is increased because it's likely you'll need money quickly again, but this time before you've paid back the first loan.
Banks have figured out that if you're looking for a fast business loan, you probably really need the money. If you're in a big rush and unprepared, they will likely turn you down and worse, you could be blacklisted!
Some reasons you may be in haste are:
You have a deadline that you must meet.
Payroll is coming up but your funds are short.
You've found a good deal that you must finance quickly.
You strongly desire to expand the business but don't have the needed funds.
In any of these cases, your local bank may be the last place you want to be seen. The strict underwriting requirements and endless supporting documentation requests could have you waiting for funds for up to 60 days or more.
Can I get fast business loans if I have a start up business?
Yes, but only if you have good credit. There are lenders who will lend to you based on a personal guarantee within a week or less.
Have you been pre-approved for any personal credit cards? Lenders who have already pre-approved you for credit are among the quickest sources of funds.
Can I get fast business loans if I have bad credit?
If you have poor credit, consider securing a fast business loan by means of a merchant account cash advance.
Depending on your monthly merchant account credit card income, you can borrow as much as $250,000 in less than one week without all of the usual formalities, requirements, and endless supporting documentation requests aka red tape.
Even with these programs, however, it is imperative that you are responsive to all of the lender's requests and are available to be contacted throughout the entire process.
Truth be told, no one wants to wait for money. We'd all love to have all the money we need right now.
Like the diligent tortoise, however, focus on building the strong financial picture that lenders want to see. If you take this approach, securing a fast business loan will be as simple as 1-2-3!
Do you have questions about how to secure business loans quickly? We make every attempt to get your questions answered right here on this website.
Just post your question on the form provided in the Contact Us Business Loan Express page. We look forward to hearing from you.
Return from Fast Business Loan to Business Loans.